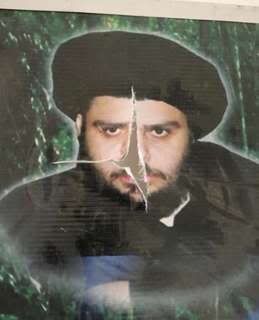 It seems that the guys really mean it this time around, they're really intent on nailing
Shibil al-Hawza
by his firebreathing firebrand nostrils, not only are they trying to forming Shahwa (Shi'i-Sahwa) councils inside the city that carries his father's name, but they're pulling all the guns : first a National Security Council that bans all militas [which really means just the Mahdi Army because Badr is the government now] and they're also wiping the dirt off the case of Muqtada's First Blood: Sayyid Abdul-Majid al-Khoei.
Two days ago, I watched an al-Khoei family member on al-Arabiya, he said that Muwaffaq al-Rubiaye came to talk to him about reopening the case, he seemed a little irritated at all involved, first he said that al-Khoei's case was

never

closed in the first place so that is shall be reopened, which directly contradicts what

Rasim al-Marwani

, a Sadrist cultural advisor, who repeatedly said that al-Khoei family themselves had "dropped the case which was setted in good will." and second he said that too many people have used al-Khoei's murder as political leverage, which is of course a direct jab at Ibrahim al-Jaffari's stint as PM in 2005 during which he ignored the murder due to the backing of the Sadrists which directly gave him the PM position, but he could have also been referring to this recent request by al-Rubaiye, especially as he didn't really seem to be supportive of it and seemed rather annoyed at all of them.

Another al-Khoei family member,

Hayder al-Khoei

, writes in his blog

Eye Raki

about this recent development, expecting an ominous showdown (of course, being a member of al-Khoei family it's understandable for Mr. Eye Raki not to be really objective about anything involving the man who killed his father, that is if he is indeed Hayder the son of Sayyid Majid, but re-reading Eye Raki's blog with this fact in mind the guy seems to be incredibly reasonable and objective about Iraq in general, and that is damn impressive considering his family is an extremely respected religious family which is expected to be subjective, to say the least, he is much better than other Iraqi Shi'i (and Sunni) blogs.)

Everybody in the government, including the Sunnis, and most recently, Iran, have supported the government against Muqtada, who has came back to Najaf ; recent news items talk about Basra breathing a little air after months of religious monkeybrains.

So why is this happening all of a sudden, I don't want to get my hopes up as the Badrists/Iraqi Government/and even the Amreekan have played

forbidden detente football

with Muqtada for years now, so what has suddenly prompted this sudden rush to crush him? (Amreekans still seem reluctant about it.)

Nobody knows for sure, maybe they were encouraged by Muqtada's declaration to disappear for a while and focus on his college education, but the obvious reason is the municipal council elections, which sits as a pragmatic selfish explanation that sits in line with what has been happening in Iraq until this point, however, even if that is indeed true, I do wish that the Sadrists are destroyed in the long run and are not as powerful as everyone expected them to be, first, having one militia around is better than two, and second, the Badrists, as evil as they are, seem to be more negotiable than Qrazy Qaddo and his boneheaded supernatural take of the world, the only people who expressed sympathy were either opportunists who calculated so as to slide with the more populist Sadrists to advance their own careers such as Ibrahim "Lazga" Jaffari and Ahmed "Slimesnake" Chalabi, or Ba'athis who really have no love for them but use them to prove that their resistance is pan-Iraqi, the Sadrists have completely destroyed their own nationalistic credentials in their post-2006 killing spree, before which only Badr, with its covert sneaky assassinations were being pointed at as the extremist Shi'i.

One could certainly look with sympathetic eye towards the poor downtrodden base of Muqtada al-Sadr, I remember in the old days when we used to make fun of them like hell, not because they were Shi'i but mostly because they were dirty and backward, something even the middle-class Shi'is used to do, calling them

mi'dan

and

shroog

. it's a classic

urban vs tribal

situation in a way.

Ismail al-Lami aka "Shi'i Zarqawi" Abu Deraa is back in town, supposedly he returned to Basra but this al-Arabiya article says his pictures are distributed around police checkpoints in Kerbala, we finally have a good picture of him, the person who took this picture said, and I quote: "
lol my father was some weeks ago in iran. he meeted Abu dere3 there in qom (iran)
he was without bodyguards walking in a place where just iraqi live there, he is a friend of my uncle who also lives there, here are some pics of abu dere3 from some weeks ago with my father and uncle
", Abu Deraa reminds me of a cross between a big teddy bear and a large rodent: